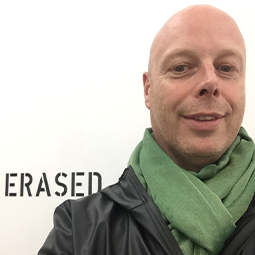 Antony Nevin
Senior lecturer, Ngā Pae Māhutonga Wellington School of Design
Antony's creative practice aims to harness the creative potential of design empowering science and science empowering design. The focus in his creative practice is in crossing boundaries between science and design. He does this through collaborative, transdisciplinary projects focused on biomedicine, artificial intelligence, and the ethics of science. Antony is passionate about the role that a scientifically well-educated and curious population can play in addressing 21st Century challenges.
Antony received a New Zealand Government Curious Minds award in 2020 and was Artist in Residence at the Institute for Research in Biomedicine (IRB) in Barcelona in 2019. He has exhibited installations and run workshops focused on the intersection of design and science both nationally and internationally.
Antony co-directs the Visual Communication Design programme in the School of Design. He coordinates the honours level research and development course, teaches core VCD courses and interdisciplinary courses that focus on designing unique experiences for festivals and events, such as CubaDupa. Antony developed and coordinates the design thinking course for Massey's School of Health.